Psalms and Compassions:
A Jesuit's Journey Through Cancer
by Timothy Brown, S.J.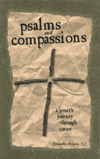 details:
Price: $9.95
Pages: 120
ISBN: 0966871642
Trim: 5x8
Binding: paperback

order this book:


Description. Immediately following his return from a ten-day student service project in Mexico in January 1998, Fr. Brown was diagnosed with colon cancer. He turned to the Book of Psalms as a source of strength throughout his illness and recovery. This book is the fruit of that experience.
A compilation of Psalms, meditations, rare and original prayers, and commentaries, Psalms and Comassions is dedicated to all who are experiencing pain and suffering of any kind, and to all who care for the
From the publisher. This is a powerful – and useful – book for anyone who knows cancer. While still in production of Psalms and Compassions, I was diagnosed with thyroid cancer. Through the book's meditations and Fr. Brown's introspections and stories, I feel I was strengthened and supported in my own times of doubt.