Discovering New Jersey Wineries:
A Travel Guide to New Jersey's Wine Country
by Kevin M. Atticks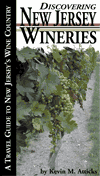 details:
Price: $9.95
Pages: 104
ISBN: 0966871669
Trim: 5x9
Binding: paperback

order this book:


Description. Discovering New Jersey Wineries is your key to the Garden State's award-winning wine industry. From the sandy shores of Cape May to the rolling mountains of Belvidere in northern New Jersey, this guide leads you to each of the distinct wineries while taking you through some of the state's most amazing scenery.
Also included in this handy guide are detailed maps and directions to each winery, delicious recipes from winemakers' kitchens and regional chefs, and Bed & Breakfast and restaurant recommendations.
About the author. Author Kevin Atticks has years of experience tasting, pouring, and writing about fine wines. With an explicit interest in America's lesser-known wine regions, Atticks is devoted to spreading the news of these elusive treasures. Discovering Maryland Wineries. Atticks' debut book, won praise among wine lovers as it revealed the state's up-and-coming wineries. His second book, Discovering Lake Erie Wineries, showcased the region's many rising – and already shining – stars.
Atticks holds a Master of Arts degree in Mass Communication from the University of Colorado at Boulder and a doctorate in Communciations Design from the University of Baltimore. He currently teaches journalism, publishing and design at Loyola College in Maryland, and continues to conduct winetastings and write about wines.