Discovering Maryland Wineries:
A Travel Guide to Maryland's Wine Country
by Kevin M. Atticks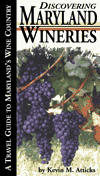 details:
Price: $12.95
Pages: 236
ISBN: 0966871685
Trim: 5x8
Binding: paperback

order this book:
OUT OF PRINT

Description. Discovering Maryland Wineries introduces wine lovers and novices to the nationally acclaimed wines being produced by Maryland's ten wineries. This book helps readers plan day trips and long tours that will give them an appreciation of the ancient skill of grape growing and the romantic art of winemaking. Readers will tour a variety of vineyards, wineries, and wine cellars where they will meet the dedicated people wo are producing the diverse and spectacular wines that are increasingly found in the glasses of discriminating wine lovers.
About the author. Author Kevin Atticks has years of experience tasting, pouring, and writing about fine wines. With an explicit interest in America's lesser-known wine regions, Atticks is devoted to spreading the news of these elusive treasures. Discovering Maryland Wineries. Atticks' debut book, won praise among wine lovers as it revealed the state's up-and-coming wineries. His second book, Discovering Lake Erie Wineries, showcased the region's many rising – and already shining – stars.
Atticks holds a Master of Arts degree in Mass Communication from the University of Colorado at Boulder and a doctorate in Communciations Design from the University of Baltimore. He currently teaches journalism, publishing and design at Loyola College in Maryland, and continues to conduct winetastings and write about wines.
Atticks hosts educational and social winetastings in the Baltimore/Washington D.C. region. For more information about these tastings, visit Atticks' radio show's website: Word On Wine.