Great Ideas, Gentle As Doves:
Reflections on Catholic Social Teachings
by Timothy Brown, S.J.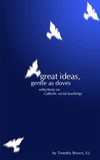 details:
Price: $11.95
Pages: 128
ISBN: 0966871693
Trim: 5x8
Binding: paperback

order this book:


Description. This compendium of essays, prayers and scripture readings engages readers in many topics surrounding Catholic social teaching.
Compiled by Timothy Brown, S.J., and complemented by his homilies and personal essays, this book serves both as food for thought for those interested in Catholic social teaching, and as a meditational guide for those already involved in the field.
About the author. Timothy Brown, S.J. is Provincial of the Maryland Province of Jesuits. He founded the Center for Values and Service at Loyola College in Maryland in 1992 and served as co-director until 2002.