The Gift of Cancer: A Call to Awakening
by Anne McNerney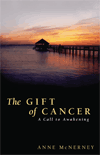 details:
Price: $19.95
Pages: 220
ISBN: 0966871650
Trim: 5.5x8.5
Binding: hardcover

order this book:


Description. The book is an autobiographical account of one woman's spiritual renaissance brought about by her own experience with cancer. Through her dreams and a realization of her own Spirit, Anne McNerney was empowered to change. She bacame a passionate and vibrant personality, dedicated to introducing other cancer patients to the power of spirituality. McNerney's examination of the spiritul cause-and-effect behind illness brings us one step closer to awakening and authenticity.
About the author. Two years after her experience with cancer in 1992, Anne McNerney left her position in the corporate world to stay at home and raise her family. Years later she returned to St. Agnes, the community hospital where she was treated, and worked as a volunteer.

Today she is employed at the St. Agnes Cancer Center and spends her time in the treatment room with cancer patients. She resides in Baltimore, Maryland, sharing life with her husband, four children, two dogs and a cat.
For more information. visit www.giftofcancer.com